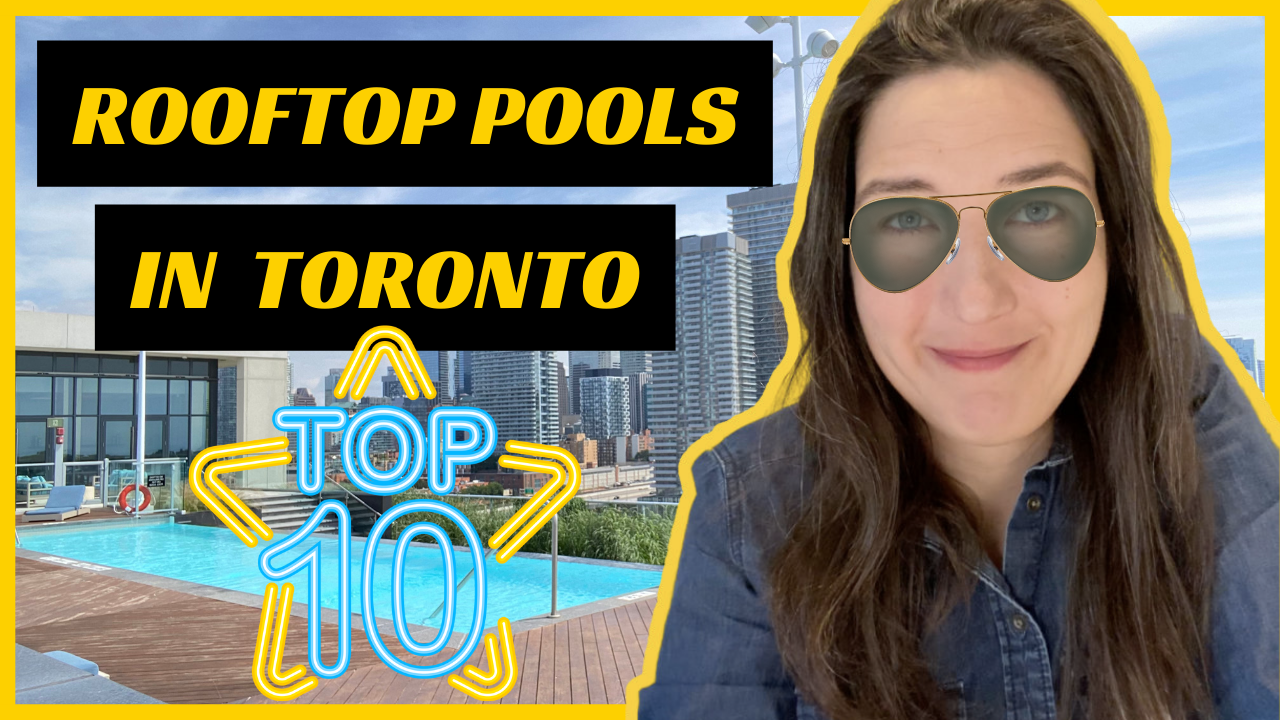 Imagine basking in the sun on a rooftop pool, soaking in stunning panoramic views of Toronto's skyline – a dream that can be your reality. These pools aren't just for the elite; some are within reach for the average homebuyer. I'm about to take you through the most captivating condo rooftop pools in downtown Toronto. Get ready to dive into a world of luxury and leisure like never before.
Pools - East Side:
Let's start our expedition on the East Side, where tranquility and panoramic views come together to create an oasis of calm and serenity.
Aqualina at Bayside:
Nestled at 15 Merchants' Wharf & 55 Merchants' Wharf, Aqualina at Bayside stands as a true gem along Toronto's vibrant waterfront. As you step into this haven, you're immediately greeted by modern architecture and a sense of tranquility that's hard to find elsewhere. This luxury condominium boasts a 13th-floor rooftop infinity pool that's more than just a place to swim – it's a breathtaking escape with a Lake view. Imagine a lazy Sunday morning, where the sun's rays dance on the water's surface, and the gentle hum of the city below sets the perfect soundtrack for your day of relaxation.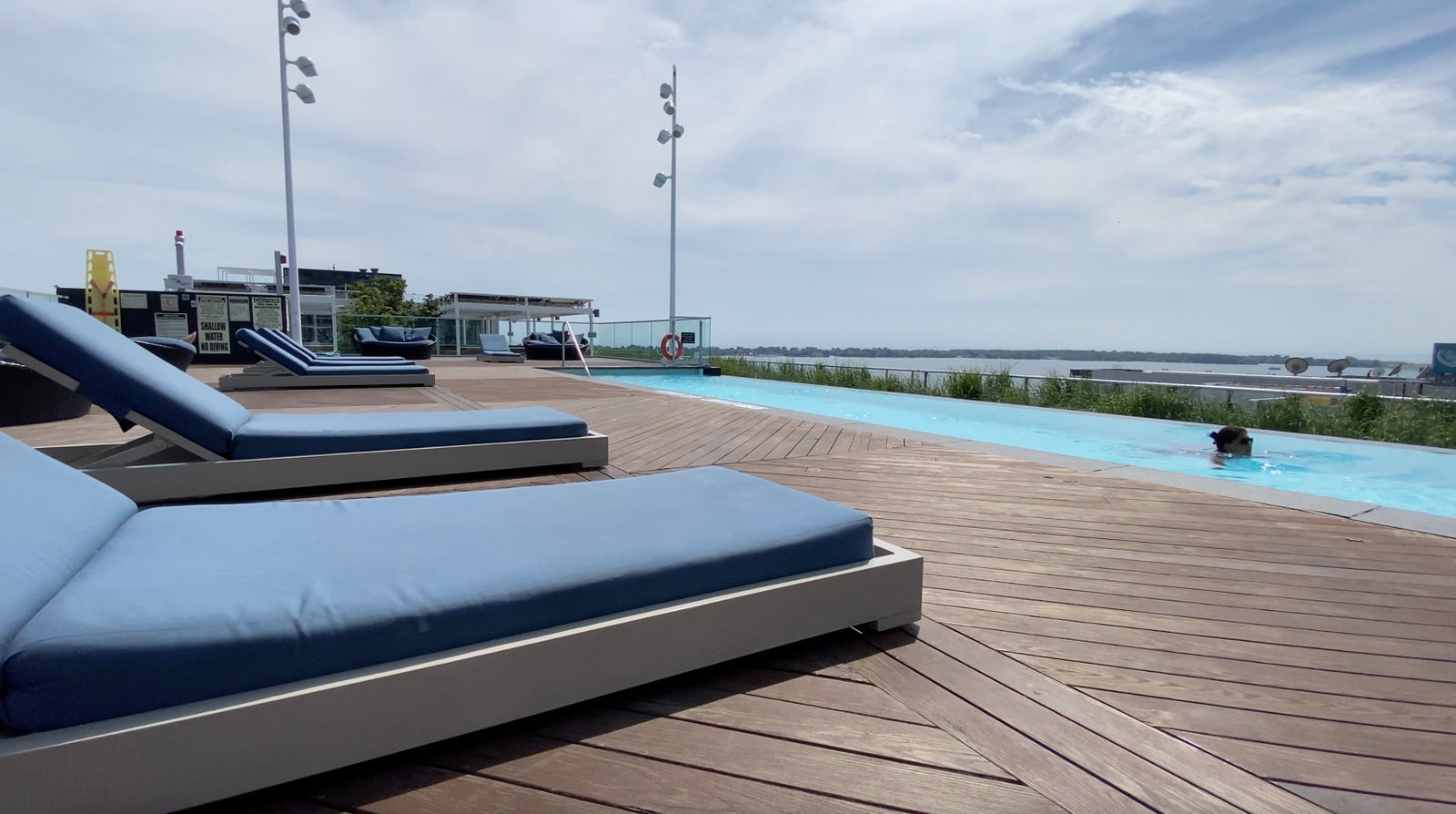 Aqualina at Bayside
Aquavista at Bayside:
Located at 1 Edgewater Dr, Aquavista at Bayside brings a touch of Mediterranean flair to Toronto's skyline. With its distinctive design and stunning Lake views, this condominium offers an outdoor infinity pool that transports you to a world of elegance and serenity. The gentle lap of the water against the pool's edge creates a soothing ambiance, while the sound of laughter from nearby barbecue gatherings adds a touch of camaraderie. Imagine yourself reclining on a comfortable sunbed, feeling the gentle breeze coming in from the lake – it's a moment of pure bliss.

Aquavista at Bayside
Monde Condominiums:
Standing proudly at 12 & 16 Bonnycastle St., Monde Condominiums is a testament to modern urban living. Its expansive rooftop deck boasts more than just an infinity pool – it's a haven for those seeking both relaxation and connection. Here, you can bask in the warmth of the outdoor fireplace as you engage in captivating conversations under the starlit sky. With its panoramic views of Lake Ontario, you'll find yourself inspired by the beauty of the city, which seems to stretch out endlessly. This is not just a pool – it's a place where memories are made and friendships are deepened.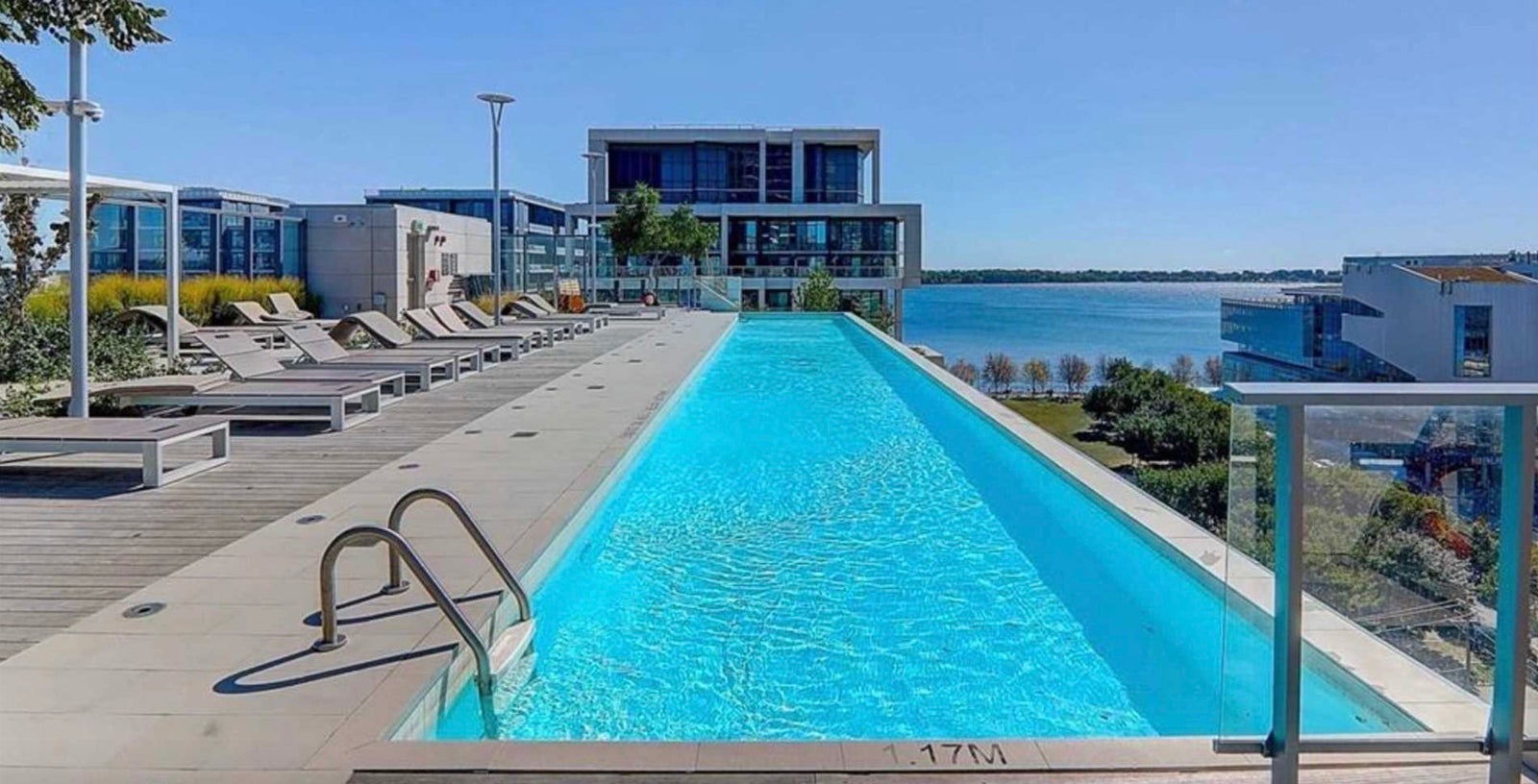 Monde Condominiums
Pure Spirit:
Nestled at 33 Mill St., Pure Spirit invites you to experience a different kind of rooftop oasis. This condominium's outdoor pool and hot tub are spaces where time slows down and the worries of the day seem to fade away. As you recline on a comfortable lounger, the sound of water bubbling in the nearby hot tub creates a soothing symphony. The real magic, however, lies in the views before you – the bustling streets of Toronto's Distillery District below you, and the iconic Toronto skyline and CN Tower in the distance. Here, you're not just living; you're embracing the soul of the city from a whole new perspective.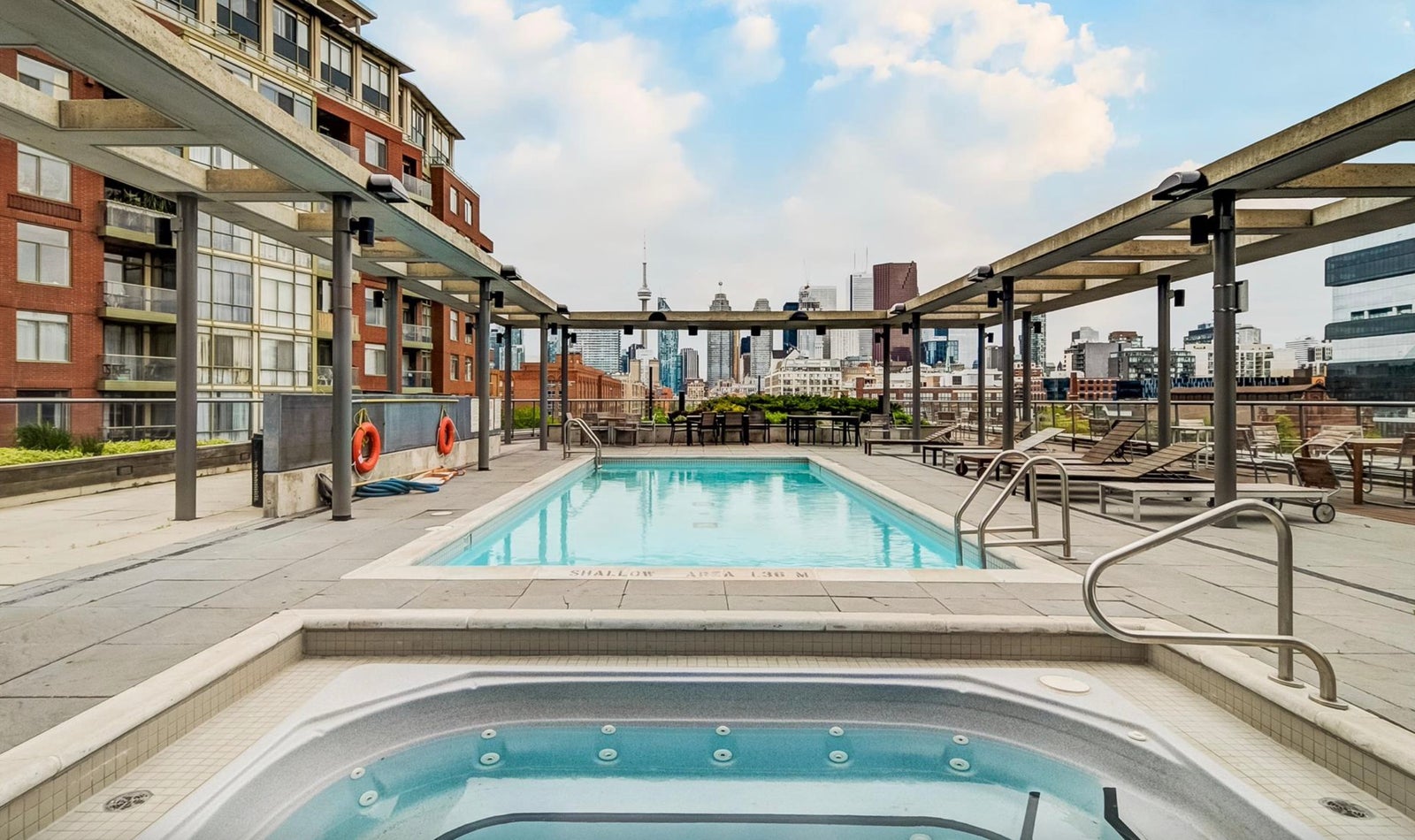 Pure Spirit
Before we dive deeper, let me share a pro tip to elevate your rooftop pool experience. It's not just about the pool – it's about the ambiance you create. Pack essentials for a mini-vacation – sunscreen for protection, a good book, wireless headphones for your vibe, and of course, your favorite snacks and beverages. Now, here's the real secret sauce: a plush, oversized towel. Not just any towel, but one that's big enough to sprawl out on and super soft to the touch. There's something magical about sinking into a cozy towel after a dip. So, next time you're heading to your rooftop oasis, remember this little gem of advice. These thoughtful touches transform a regular pool day into an unforgettable escape.
Pools - West Side:
Now, let's shift our focus to the West Side, where energy and urban allure combine to offer a nightlife-inspired experience, perfect for those seeking action and vibrant socializing.
Theatre Park Condos:
Situated at 224 King St W, Theatre Park Condos stands at the intersection of entertainment and luxury. This condominium's outdoor rooftop pool isn't just a place to swim – it's a stage where you can play the lead role in your own story. As you recline on a lounge chair, the vibrant energy of King Street below seems to harmonize with the laughter and chatter around you. It's a symphony of urban living and relaxation, where you're both the audience and the star of the show.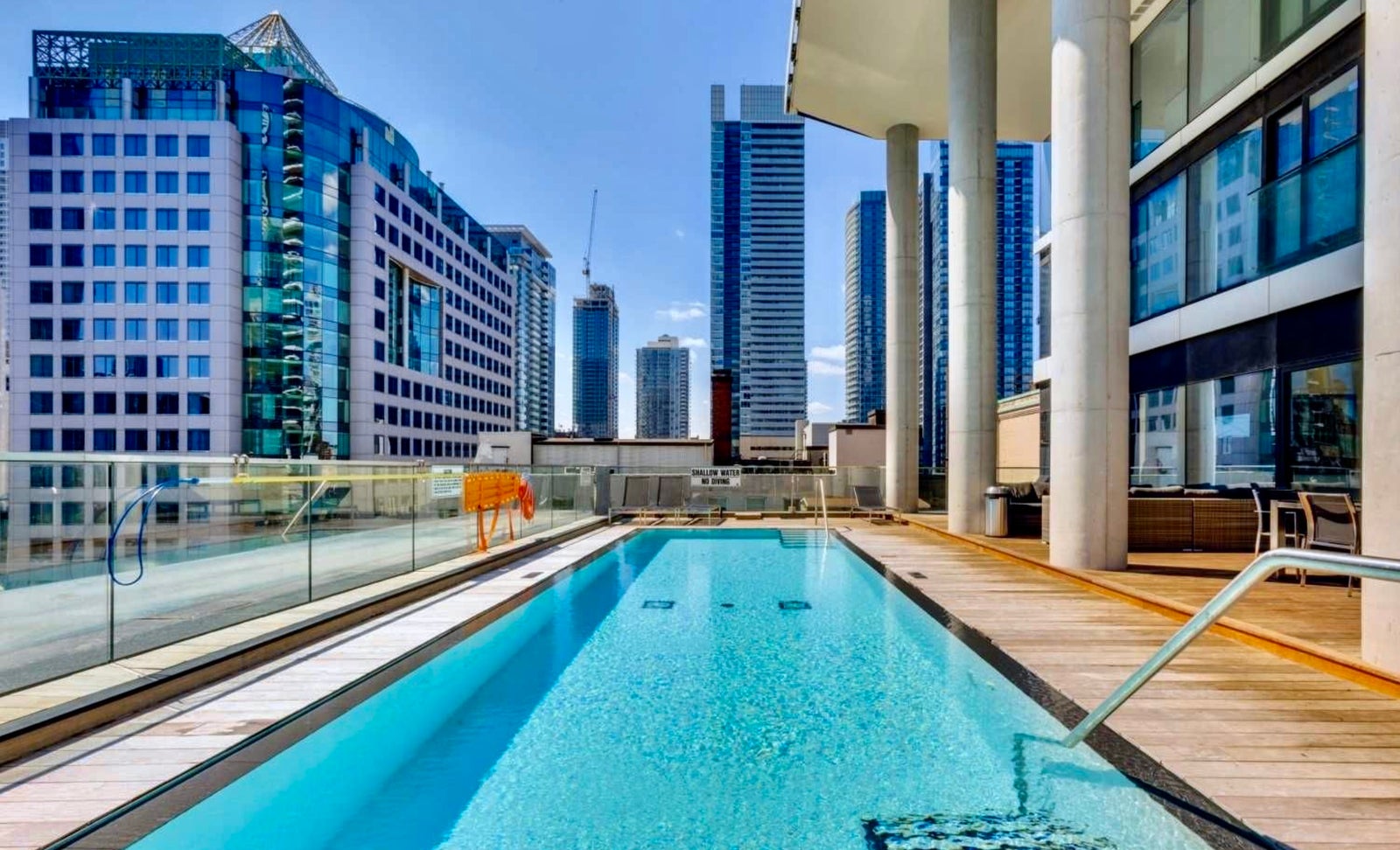 Theatre Park Condos
Bisha Hotel & Residences:
Perched at 88 Blue Jays Way, Bisha Hotel & Residences redefines luxury living with a touch of exclusivity. The rooftop pool here isn't just a pool – it's an experience that unfolds on the 41st floor. As you step into the water, the world seems to unfold beneath you – diners at "Kost" Restaurant & Bar enjoy their meals while casting admiring glances in your direction. The stunning views of the CN Tower and the serene expanse of Lake Ontario create a backdrop that's both captivating and inspiring. And if you're looking for a refreshment, the poolside service bar stands ready to cater to your desires.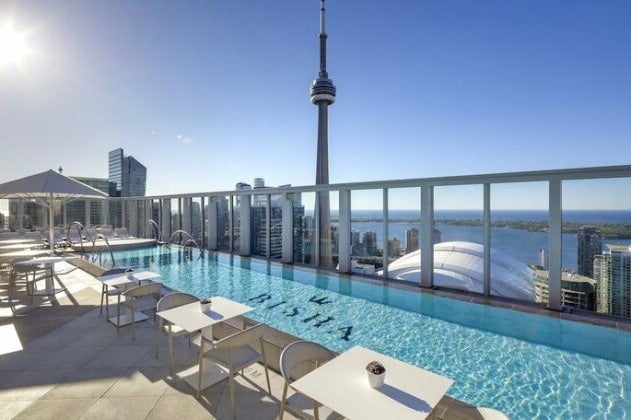 Bisha Hotel
Thompson Residence:
On 629 King St W & 38 Stewart St, Thompson Residence offers more than just a rooftop pool – it's a portal to a world of awe-inspiring views. As you step into the infinity pool, the cityscape stretches out around you, a tapestry of lights and life. The bar and lounge area invite you to connect with friends, neighbours, and the cutie in the next lounger. This is more than a condominium; it's a gateway to a that's dynamic and vibrant lifestyle.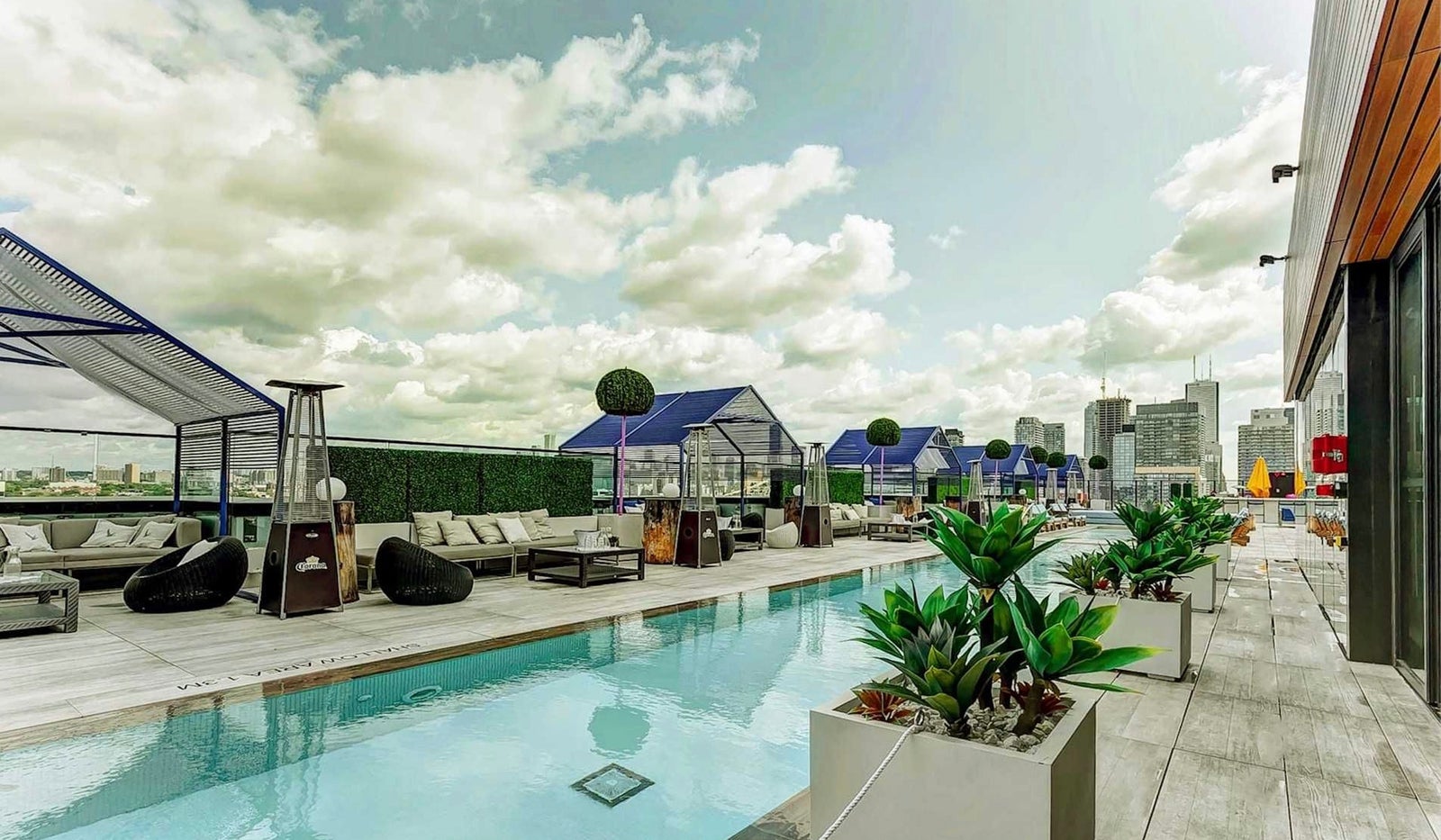 Thompson Residence
King Charlotte Condos:
Found at 11 Charlotte St, King Charlotte Condos adds a touch of modern elegance to the city's west side. The rooftop pool here is a reflection of the cosmopolitan spirit of Toronto. Imagine yourself surrounded by the bustling city below, while you bask in the warmth of the sun above. The pool's tanning deck becomes your private oasis, a place where you can soak in the city's energy while still enjoying moments of quiet serenity..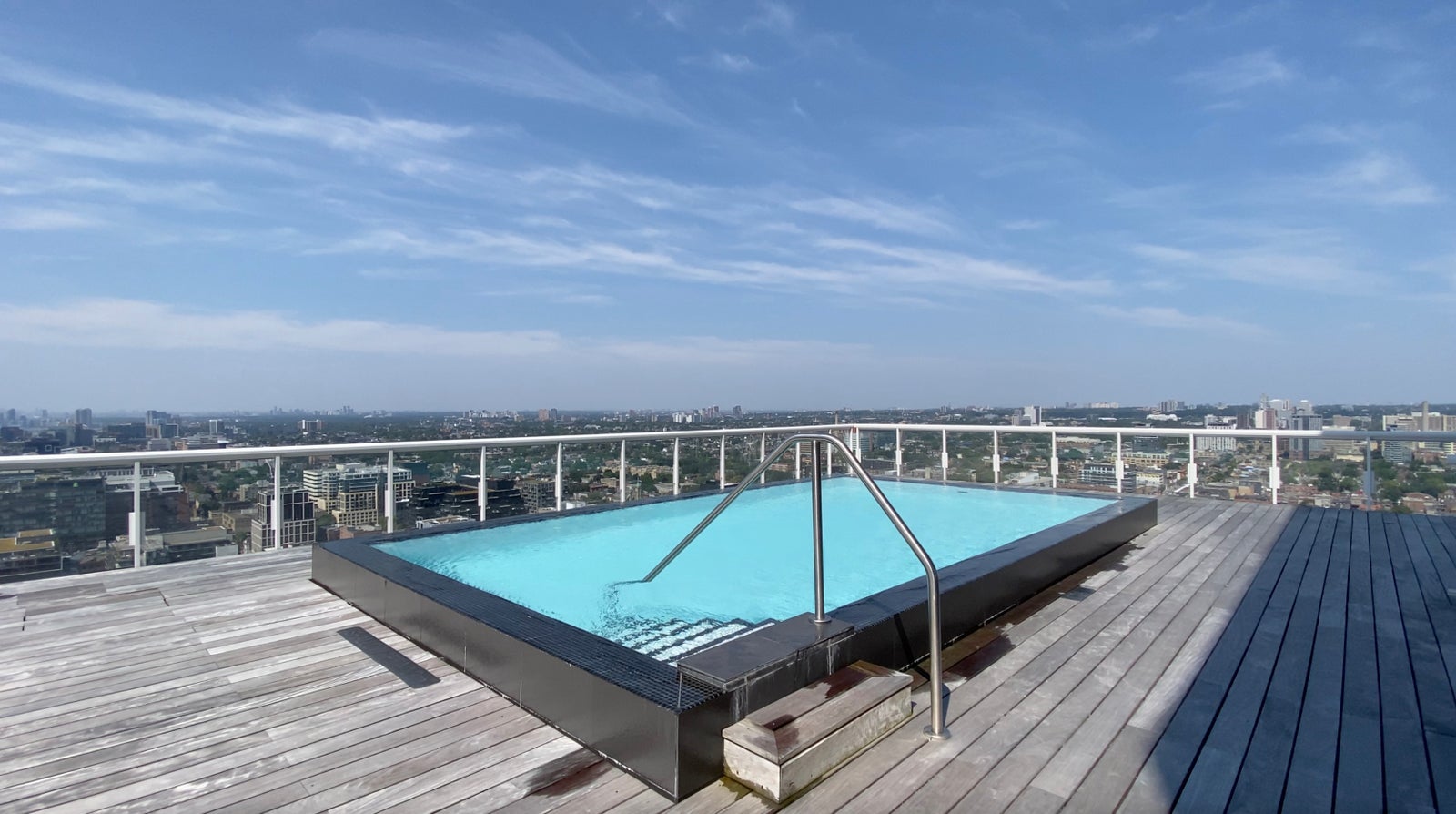 King Charlotte Condos
300 Front Street West Condos:
Located at 300 Front St W, 300 Front St West Condos redefines urban living with its outdoor rooftop swimming pool. Here, you're not just a resident; you're part of a community that values leisure and connection. The private cabanas invite you to unwind and enjoy a moment of solitude, while the barbecues and lounging areas encourage camaraderie with your neighbours. It's a space where you can experience the city's rhythm from a different perspective – one that's both relaxed and exhilarating.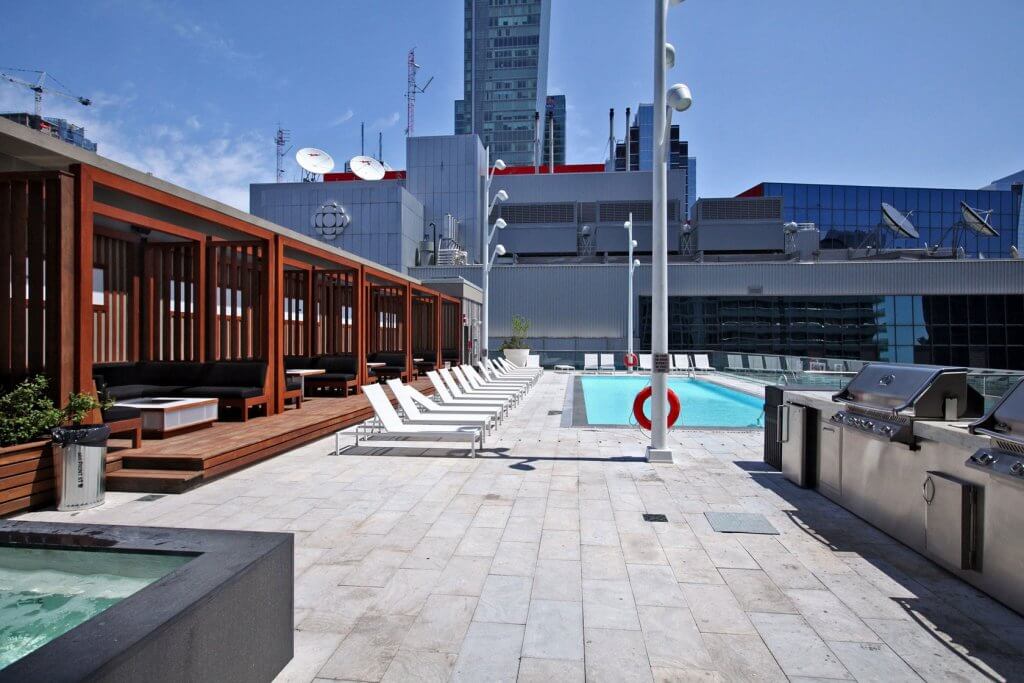 300 Front Street West Condos
Fashion House:
Situated at 560 King St W & 461 Adelaide St W, Fashion House Condos is a testament to style and luxury. The skypark on the 10th floor isn't just a garden – it's an urban oasis where nature and design come together in perfect harmony. As you dip into the outdoor pool, the city's energy surrounds you, while the cabanas and lounge areas offer a retreat from the urban hustle. Here, you're not just residing; you're elevating your lifestyle to a level that's as stylish as it is comfortable.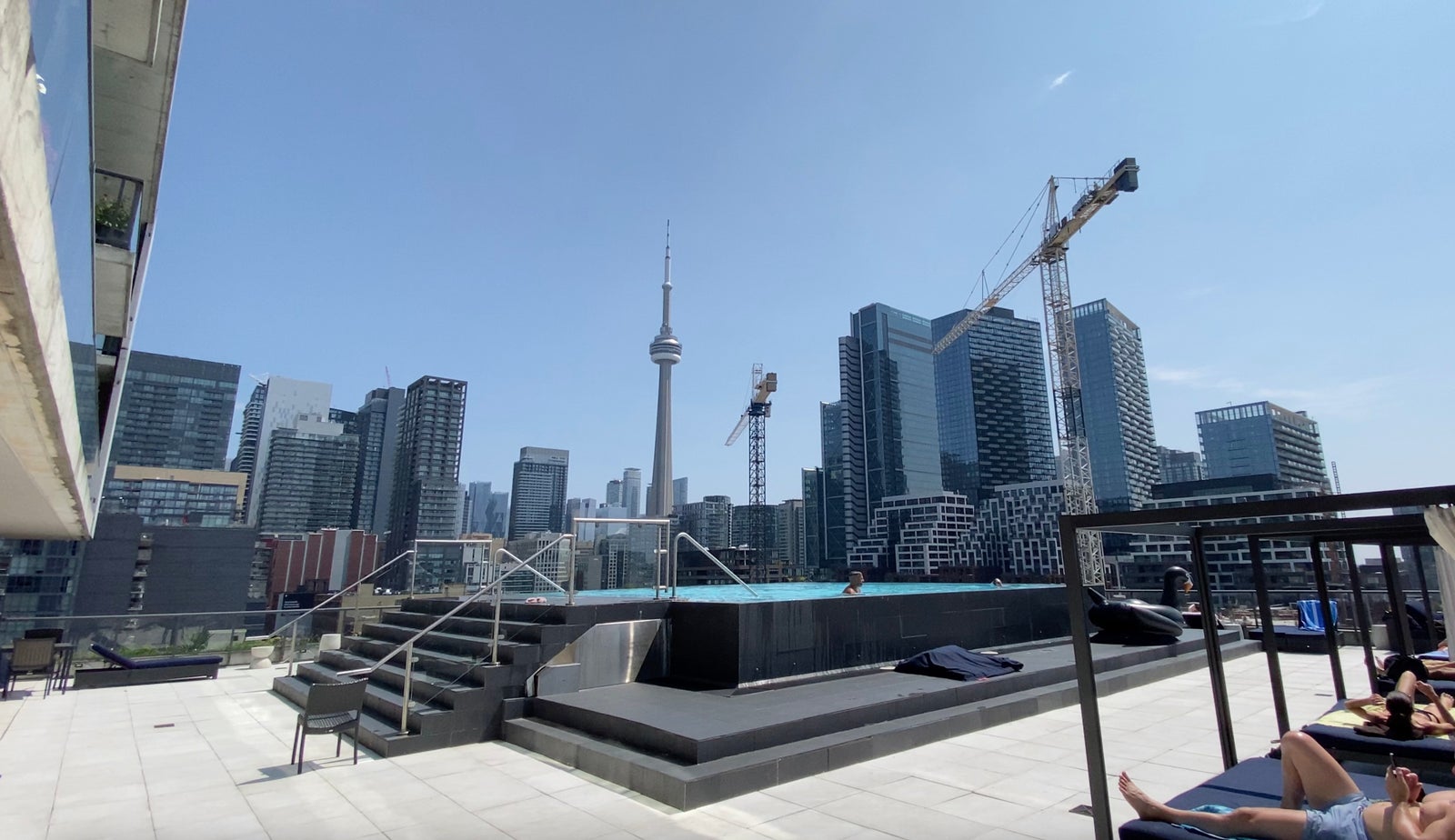 Fashion House
These condos aren't just homes; they're gateways to a life of comfort, community, and connection. Picture waking up to Lake Ontario's gentle waves, savoring your morning coffee with a city panorama. Evenings by the rooftop pool melt away your cares, every moment a memory waiting to be cherished.
As we wrap up our journey through Toronto's finest rooftop pools, I hope you've been inspired to elevate your urban living experience. These rooftop pools aren't just luxurious amenities – they're gateways to a lifestyle that seamlessly blends relaxation, community, and breathtaking views. Whether you're gazing at the skyline from the East Side's tranquil oases or embracing the energy of the West Side's vibrant social scene, these condos offer more than just a place to live – they offer a place to truly thrive.

If you're ready to turn your Toronto dreams into a reality, whether by making a move or simply staying informed about our city's wonders, I'm here to assist you every step of the way. Remember that Toronto is not just a place you live – it's a place you can love, cherish, and call home.